September 11, 2020 — Hugh Manoid
The 9/11 episode.
Featuring...
猫 シ Corp - News At 11 (JWM Mix)
猫 シ Corp - Evening Traffic
Rb387 - Calm Sounds... and Piano
Depeche Mode - Easy Tiger
Mick Rippon - Alone
Necros - Dirty Walk
Nine Inch Nails - The Downward Spiral (The Bottom)
Rs3 - Ray 3
Moby - My Weakness
William Basinski - DLP 4
August 17, 2020 — Hugh Manoid
Tonight, Cortex Primer celebrates its tenth episode with a two hour extravaganza of new wave, dark wave, post punk, descriptor 31, and gothy goodness.
Featuring...
Part 1...
Depeche Mode - Black Celebration
Bauhaus - Dark Entries
For Against - Stranded In Greenland
Kate Bush - Under Ice
Kate Bush - Waking The Witch
Killing Joke - The Wait
Danse Society - Godsend
Cocteau Twins - Garlands
The Sound - Possession
Echo & The Bunnymen - Killing Moon
Comsat Angels - Eye Of The Lens
Trisomie 21 - There's A Strange Way This Morning
The Cure - A Strange Day
The Chameleons - Monkeyland
Part 2...
Siouxsie & The Banshees - Jigsaw Feeling
Joy Division - Transmission
Sonic Youth - White Kross
Nine Inch Nails - Dead Souls
Depeche Mode - Agent Orange
Fad Gadget - Insecticide
Throbbing Gristle - Six Six Sixties
Gary Numan - Down In The Park
The Cure - Primary
Skinny Puppy - Assimilate
Torn Memory - Together
Drab Majesty - Ellipsis
Victrola - A Game Of Despair
August 07, 2020 — Hugh Manoid
In this episode, Hugh Manoid eats some bad donuts and has to lay down for a while. Also, Chopper stops by to demonstrate his new shotgun shirt.
Featuring...
Cath Baker - Whispers
Christ. - Breathe Between Sleep
Nmesh - Phase 1 Lvl Snap Chill
Ulrich Schnauss - Clear Day
Broadcast - A Goblin
The Grid - Leave Your Body
Raymond Scott - Ohio Plus
HKE - 星界的梦想
Aphex Twin - Bit 4
Neil Scrivin - Telecommunications
Broadcast & The Focus Group - A Quiet Moment
Portishead - Plastic
The Focus Group - The Plastic Castle
MGMT - Little Dark Age
Percival Pembroke - BSP / Octree
The Belbury Circle & John Foxx - Cloudburst Five
Raymond Scott - The Wing Thing
Boards Of Canada - Seven Forty Seven
DEVO - Duty Now For The Future!
July 24, 2020 — Hugh Manoid
Hot treats and cool eats all across the board.
Featuring...
Baby Elmer - Media Meditations
Frank Zappa - Peaches En Regalia
The Knife - Lasagna
The Cure - Meathook
Siouxsie And The Banshees - We Hunger
The Vestibules - Encor Instant Coffee (Excerpt)
James Ferraro - Palm Trees, Wi-Fi And Dream Sushi
Moon Wiring Club - The Cheese And The Worms
Tom Ellard - Big Eats
Brian Eno & David Byrne - Very, Very Hungry
Talking Heads - Popsicle
Beck - Peaches & Cream
Boards Of Canada - Under The Coke Sign
Thriftwicker Audio Society - Power Nap
July 17, 2020 — Hugh Manoid
Kicking off the summer with 90's alternative / grunge / sludge / grime / descriptor #73
Featuring...
Nada Surf - Deeper Well
Weezer - Surf Wax America
Soundgarden - Rusty Cage
TAD - Wood Goblins
Nirvana - Dive
Hum - Comin' Home
Regurgitator - Blubber Boy
Radio Free Vestibule - The Grunge Song
Screaming Trees - Nearly Lost You
Sponge - Wax Ecstatic (To Sell Angelina)
Failure - Undone
Seed - Rapture
Meat Puppets - Backwater
Melvins - Revolve
Nirvana - tourette's
Hum - Cloud City
June 12, 2020 — Hugh Manoid
Tonight on Cortex Primer: Things happen, mistakes are made, and we all grow up a little bit.
Featuring...
Andy Shauf - The Magician
Blue Gas - Shadows From Nowhere
The Pattern Forms - Black Rain
Mother Of Gut - Wizard Tree
Boreal Network - Outcrop
Datassette - Minus Fourteen
Fevered Mind - Do The Hustle
Endless Problem - Meat Pudding
FOAMMM - Rollerblades
Slowdive - Morningrise
The Flesh-Eating Bugs - Black Meat
Drab Majesty - Long Division
Instra:Mental - Translucent
Thriftwicker Audio Society - Concrete Mushroom
Jim Noir - On A Different Shelf
Broken Machine Films Presents... - Embassy
June 05, 2020 — Hugh Manoid
Hey, what does a tiger, a jacuzzi, and a 3-hole punch have in common? Not much really, but Cortex Primer is on tonight and there will be music so who cares.
Featuring...
Jun Chikuma - Shop (Edit)
MGMT - She Works Out Too Much
Mitch Murder - Frantic Aerobics
James Asher - Scratch City
Andy Clark - Workout
SSDS - Roger Moore
Tangerine Dream - Thru Metamorphic Rock (Edit)
Thriftwicker Audio Society - Lift
Ulrich Schnauss - Stars
Rush - Countdown
Daft Punk - Contact
Louis And Bebe Barron - Main Title From Forbidden Planet
May 29, 2020 — Hugh Manoid
When I first started volunteering at KBVR I was required to play 20 minutes of music as part of my training. So, I took the opportunity to make an insane, brain melter of a mix. The wonderful druids behind the Thriftwicker Audio Society have lovingly resurrected and extended this mix an additional ten minutes. It is now being presented as both the pilot episode of Cortex Primer and an audio ritual of sorts.
Protect your brains.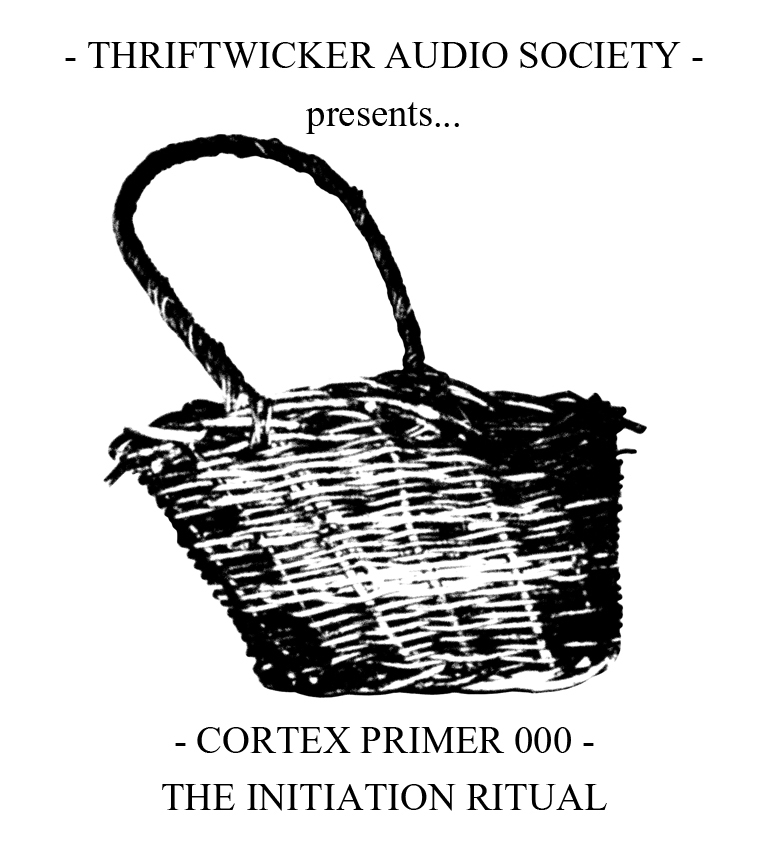 This mix features excerpts from..
1991 - Reborn Ice Horn
Autechre - IO
Thriftwicker Audio Society - Tin Foil Teeth
Nmesh - Más Abajo En La Madriguera Del Conejo
Nmesh - 3NATURE
Thriftwicker Audio Society - Totem Biscuit
Boards Of Canada - Peace Tony Devil
Autechre - Parallel Suns
Freescha - Shiver Me Timbers
Thriftwicker Audio Society - The Christmas Couch
Radio Free Vestibule - Atonal Music
Nmesh - High Speed Adjustable Broiler
+s ·0 Corp - Ice Tea
VHS Head - Sundown
Fabio Frizzi - Maggots
Oneohtrix Point Never - Eyeballs
Loafeye - In The Rusty Grass
The Advisory Circle - Triadex Two Five Nine
Thriftwicker Audio Society - Rooms Within Doors
Radio Free Vestibule - Kevin & God
Thriftwicker Audio Society - Mess Ages
Rb387 - Bob Dylan Hamburger (Raymond Burr Outhouse)
Thriftwicker Audio Society - On Hold
Hell Interface - The Story Of Xentrix
Thriftwicker Audio Society - Polychromatose
Boards Of Canada - A Is To B As B Is To C
Moon Wiring Club - Seventeen Dreaming Statues
Nmesh - Memories Return
Broken Machine Films Presents... - Mmmotorola